Gaming
Xbox One S 1Tb Fortnite Bundle ($249.99)
Get your limited edition Fortnite Bundle with 1 TB Storage Capacity, Ultra HD Blu-ray Disc Player, 40% smaller than the Original Xbox One. Also has 10/100/1000 Mbps Gigabit Ethernet and 802.11n Wi-Fi. Now available at Macy's for $249.99. Click here for deal.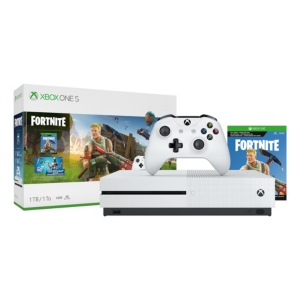 The Xbox One S isn't just slimmer and sleeker. It also has some added features for video and gameplay. You'll now be able to play Ultra HD Blu-ray Discs and stream video in 4K via content providers, such as Netflix and Amazon Video. The Xbox One S also supports High Dynamic Range HDR support for video and gaming, so you can experience rich, luminous colors in games, such as Gears of War 4 and Forza Horizon 3. With a higher contrast ratio, HDR brings out the visual depth of your games and media.
1 Year limited
1 TB Storage Capacity
Ultra HD Blu-ray Disc Player
40% Smaller than the Original Xbox One
10/100/1000 Mbps Gigabit Ethernet
802.11n Wi-Fi
Recruit and train commandos, ninjas, constructors, and outlanders to take on the monster horde. For the most dangerous missions, assign your best Hero Squads and take back Earth together.
The revolutionary building system allows you to create extravagant forts while juggling frenetic combat. But build wisely. The monsters can smell design flaws like fresh meat.
Use scavenged resources to craft ridiculous weapons. As you move your heroes up the skill tree, unlock schematics for even wilder weapons of DIY destruction.
With seamless drop-in, drop-out co-op play and procedurally generated maps, Fortnite is fun for shooters, builders, explorers, and ninjas alike.
Available At: Macy's
Brand: Microsoft
Character: Fortnite
First Published: Feb 25, 2019